My wife saw a show on the Food Network where the chef prepared a dish that's known as Beef Wellington. It's a tenderloin, lightly seared, then coated with a mushroom/herb mixture and wrapped in puff pastry. Throw it in the oven for 25 minutes and you've got a meal fit for a king.
I went through a few different recipes online and came up with my own variation. They turn out amazing everytime.
Ingredient List
– 4 Elk/Moose/Deer Tenderloins Cut About 1.5-2″ thick.
– Several Cloves Of Garlic
– Olive Oil
– Salt & Fresh Ground Pepper
– Fresh Tyme
– Fresh Rosemary
– 6-10 White Mushrooms
– 2 Large Portabella Mushrooms
– 10+ average sized Shitake Mushrooms
– 1 Bunch of Green Onions
– Butter
– 1 egg
– rock salt (optional)
– 1 package puff pastry (2 squares you roll out)
– 1 package "hunter" gravy (optional)
Step #1 Prep The Tenderloins.
Pour about 1 tablesoon of olive oil onto a plate, then crush the garlic, chop sprinkle some rosemary and then sprinkle some salt and crush a bunch of pepper over it to taste. Stir the pasty mixture around some and then coat your tenderloins with it.
Sear your tenderloins on each side for 1 or 2 minutes or until they are nice and brown and the paste we made has cooked into a sort of crust. Remove the steaks from heat, place on a plate and into the fridge to cool… We are done with them for now.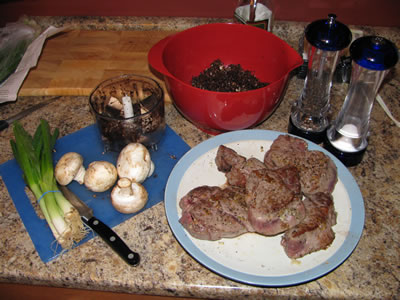 Step #2 Prepare The Mushroom Mixture.
Take all of your mushrooms and dice them really fine, I like to use a braun food processor for this as it's nice and fast. Once you've got the mushrooms diced place them in a bowl and set aside.
Now you need to cut up your Green Onions, Crush another Clove or Two of Garlic, and Finely chop up some more of your rosemary and tyme. Melt some butter in a pan and stir fry the whole works…
Cook it until the mixture is really soft and most of the moisture has been cooked off.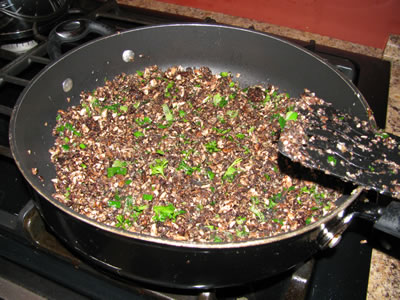 Step #3 The Puff Pastry
Sprinkle some flour on the counter and roll out your puff pastry into a rectangle… and cut in half. You'll need your pieces of pastry to be large enough to wrap completely around the tenderloin.
Step #4 Wrap Up The Tenderloins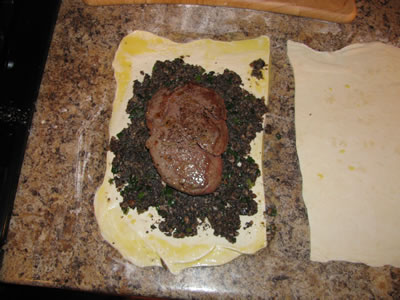 Now that we've got the pastry ready we can now spread out the mushroom mixture about 1/8-1/4″ thick on the pastry and then top with your tenderloin. Wrap it all up tightly and then use a basting brush to put an egg wash over the pastry to seal it… Lastly I sprinkly some rock salt on top and then lightly scribe a few lines across the top with a knife for a fancy look once it's cooked.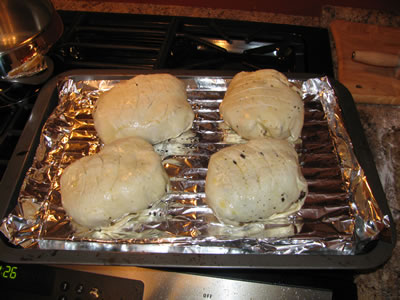 ** Important Trick. After making these a few times this is critical. Before placing my Wellingtons onto a baking pan I first cover a cookie cooling rack with tinfoil and poke a bunch of little holes in it. I then place this onto the cookie sheet so that the wellington isn't cooking in a bunch of juices.
Once you've got them ready to go into the oven throw them in your oven for 25-30 minutes on 350-275 degrees until they are done to your liking. Use a meat thermometer for accurate temps. I serve this dish with mashed potatoes and asparagus in a dill sauce.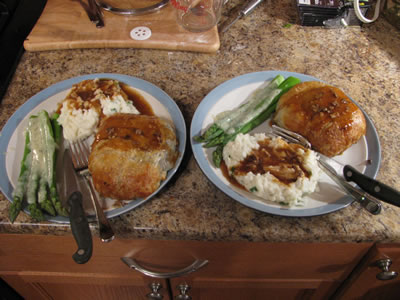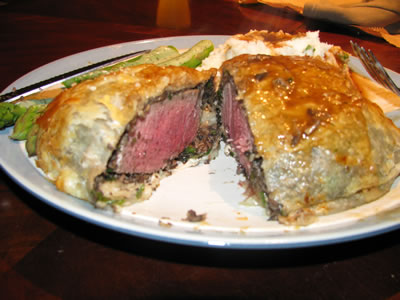 Enjoy….
Carl