If you're a backpack hunter you know one of the most important items you can carry on your hunt is going to be your stove. Chances are you're eating freeze dried meals and your stove is going to be what saves you from having to eat your dinners cold! Not to mention provide you with a source to kill bacteria in drinking water and heat up your morning coffee. Your stove is a critically important piece of gear. Obviously you can accomplish all of the above with a fire but it's a little more convenient with a good backpacking stove.
When I was embarking on my first sheep hunt I needed to buy myself a backpack hunting stove. I had been looking at stoves from the likes of MSR, Coleman, and a few other well known brands. The only problem with many of these stoves is they are incredibly expensive and they are not incredibly simple to run there is a bit of fiddling required. I wanted something simple, compact and reliable that I wouldn't have to worry about.
I found it while I was looking around eBay one night checking out stoves. I came across a neat little gadget called the Jet-Boil. When I came across this eBay auction I was intrigued by what I saw and read about more about the little Jet-Boil stove. I found out it was rated the #1 Stove by backpackers guide in 2004 and I was impressed with all of the positive feedback I was reading.
I found several other positive reviews as well.
The stove was light (less then 1 pound with burner, fuel and cooking cup) it was compact. (a little smaller then a killer can of beer) and it was inexpensive compared to some of the other similar stoves on the market. At only $89.00 USD for the stove, accessories and shipping it looked like a bargain so I purchased one of the stoves that night. I was eager to get the stove in my hot little hands to try out and see if I had either wasted my money or acquired a new piece of really useful gear.
Fast forward 6 days and my Jetboil arrived in the mail. It was a small enough package that they dropped it off into the parcel compartment of our community mailbox. I eagerly tore open the package to see what awaited me inside.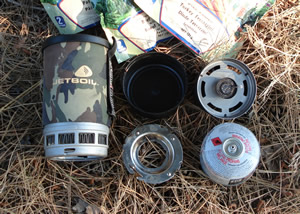 – Jetboil Burner
– 2 Jetboil cooking cups (I ordered an extra
one)
– 1 small can Jetboil fuel.
– 1 Lid and 1 Measuring Cup (doubles as the
burner cover)
Now one of the claims Jetboil makes is that it can boil 2 cups of water in about 2 minutes… It's more like 3 or 4 minutes if you've just collected some cool water from the creek but 2 minutes was definitely bang on if the water was already room temperature.
Since acquiring my Jetboil I've taken it on a few hunts and backpacking trips and with nearly 2 years of use I can't say that I have ever had a problem with this stove. Just one of the small canisters of fuel was enough to boil water for 2 guys eating mountain house freeze dried meals for 4 nights and boiling soup during the day.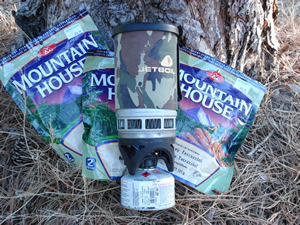 Because of the Jetboils unique patented design it's incredibly fuel efficient and and super easy and convenient to use it's so simple I wonder why it didn't come out years ago… I've been on a few trips now where others have been fiddling with their backpacking stoves trying to get them to light, or get the flame just right or messing with different pieces and connectors.
I pull out my Jetboil, take off the lid and pull
out the burner and fuel canister. Screw the fuel cansiter into the burner,
attach the burner to the actual Jetboil cooking cup with a simple 1/2 turn and
then you're off to the races! Turn on the gas, push the piezo lighter and
"Whooshh…" the stove is going and you are ready to cook.
Everybody that watches me use this asks me where I bought it.
Being a backpack hunter you probably know all about eating soups, oatmeals and freeze dried meals. They are backpack hunting staples and this is where the Jetboil excels. Boiling water for these meals is a breeze and the jetboils burner cover doubles as a measuring cup or even a small bowl should you need it. The cooking cup of the jetboil is also marked at the 2 cup mark for easy measuring. I simply boil the water in my Jetboil and then pour it right into the freeze dried package. No mess to clean! Make sure you never turn the stove on without water or contents inside. You'll melt the neoprene cover on the outside. Go ahead and ask me how I know. 🙂
While I do think this is the Stove of all backpacking stoves for hunters it does have a few drawbacks.
1.There is no windscreen. In high winds the flames are so concentrated from the burner that the wind can drastically slow your cooking time and decrease the efficiency of the
stove. If you have a windscreen problem solved. If you don't have a windscreen I've used everything from rocks to my pack or the tent to get out of the wind and cook the meal. I think they should include a windscreen.
2.The jetboil is HIGHLY efficient at cooking ANYTHING that needs 1 or 2 cups of water to eat. IE: Freeze Dried meals. It also works really well for canned goods. Trying to cook lipton sidekicks or something… No Go you'll make a big mess and it simply takes too long. Don't expect to be frying up any tenderloins with it either. While it does come with a pot/pan support the real efficiency in the jetboil comes from the patented jetboil cooking cup. When you try cooking with a different pot or pan boiling/cooking times are greatly increased. Now the company has come out with a custom pot designed for the jetboil burner but I have yet to purchase one and try it.
The Bottom Line – If you're heading out on a 14 day backpacking hunt into the most remote part of the country and you're going to be eating plenty of soups, oatmeals, and freeze dried foods you would be doing yourself a great disservice if you didn't give one of these stoves a try. It will make your cooking tasks painfully easy with very quick cleanup. It's less money then some of the more well known stoves on the market and I think it's twice the product. This stove with 3 or 4 small canisters of fuel would work for two people for 14 days.
If you do plenty of backpack hunting this stove is worth dropping $100 for. You'll wonder why in the heck you didn't have one years ago. I have yet to see this stove at a store in Canada so eBay I believe would be the best choice.
Happy Hunting!
Carl