This year in November I hunted for 10 days in the cold of region 7. Unlike the last few years there was actually snow this year during deer season. There was at least a foot of snow when I got there and it kept pouring down pretty much daily while I hunted. This was good in a way because it really concentrated the deer into specific areas for feeding and thus they were much easier to pattern and setup for an ambush.
I primarily still hunt for whitetail and hunt mule deer along the way. This year I wanted to concentrate on getting some great footage for the website to share with avid other bc hunters. If the right buck came along then I'd have to take one. With the knowledge that I would be taking a buffalo from a private ranch and would be going home with nearly 400 pounds of prime grain fed meat anyways the urge to take a small buck was not there.
I arrived late in the afternoon on the 8th and headed out for a quick scout of the area I would be hunting which is 9 sections of private land. Much of the area is timbered and it backs onto a major watershed. It's prime big buck country and has produced several big bucks over the years. The snow being so deep limited where I was able to go on the property which turned out to be okay as the deer weren't going there either.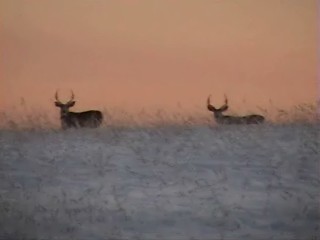 I was walking down the edge of the road in the deeper snow trying to stay of the really "squeeky" stuff and started to come over the hillside when I saw a few black dots out in the field. They turned out to be a few does… I kept walking down towards one of the ravines on the property, it's around 100 meters wide in some spots and fairly deep with some sparse timber and underbrush. It leads directly into several more of these gulleys along the many smaller watersheds in the areas. The muley bucks here tend to like to travel in these areas and will often use the creeks as their travel routes.
As I broke out of a block of timber I looked to my right out into a big open field. There was a lone deer that had just popped out of the creek maybe 600 yards away he was jogging through the deep snow on his way into a big block of timber that leads to another alfalfa field. I quickly put the glasses up and realized it was a good 4×4 muley. He was fairly heavy but still really far away and I didn't have my spotting scope with me. I had no cover and he would be in the timber before I could even get within a reasonable shooting range so I patiently watched him do his thing and kept a mental note of where he headed.
After a few hours of hiking around and checking out some trails and rubs etc.. I went and hopped back into the truck to get ready to still hunt for a whitey. I think trucks and farm equipment make about the best ground blinds you can use when your hunting deer in this type of country. They are used to vehicles driving around.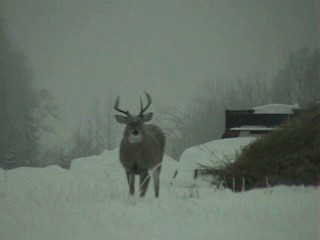 The whitetail were primarily hanging around the bails of alfalfa on one of the upper fields. This would be the spot for my ambush. I wasn't there 5 minutes the
1st night and this guy showed up. He had one really nice eye guard going for him but that was about it. The opposite eye guard looked like it never actually grew rather then being broke off. I watched this buck on several occasions and you'll see him on the video.
The second night was when things heated up a little. I had arrived in my spot at about 12:30pm and was going to sit there until it was absolutely dark. There were a few smaller bucks and several more does on and off the bails through out the day. At around 5:20 pm I happened to look in my rear view and see a big bodied deer coming right up the road behind me. I turn
around and throw the glasses up and see that he is a pretty good whitetail buck!
He was warry of my truck and was approaching fairly slowly. I had the video camera on him and could see he was a heavy 5×6 but he didn't have very
much height to his rack. His back right G2 was as thick as a banana which I thought was neat. The buck was probably 400 yards away and still approaching slowly so I decided to help him out a little and sprayed a bunch of doe estrus out the window. Watching him through binoculars he would curl his lips and then start coming at a quicker pace. It was snowing heavily and the wind wasn't in my favor.
You'll see him in the video as he goes past me and comes out in front… The video cuts off as I was actually getting ready to take this buck. I got out of the truck and crawled behind a haybail. I threw a shell in the chamber put the gun up and locked onto the bucks chest as he was facing me… I held there until he quartered and then decided I wasn't going to shoot. It was only the 2nd day into my hunt I and knew there were bigger bucks. He was a nice buck though…
You can find the video of him in my Gallery.

Big Whitetail Buck Video (For some users the video shows up really dark, others light enough to see fine. No idea!)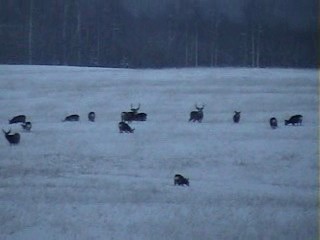 While I was up there I met up with another hunter in the area someone whom I met through HBC when we got to talking we found out we actually had permission on one of the same areas so we went out and checked it out for a day. Saw a few deer including a smaller 4×4 muley. He ended up taking a 5×4 whitetail off the property. A great buck considering the pressure the area seemed to be under this year. I've never seen so much deer sign in one field in my life. They had actually eaten up entire windrows for the full length of the field… You could see where the deer had pawed it all up. Tracks, Trails and Beds everywhere!
Another highlight of the trip was seeing my first Cougar. We were pulling into the property and about to reach the gate when my partner spotted a buck run across the road 400 yards ahead of us. It looked like a legal buck but we never did get a closer look. We stopped and waited a few seconds and another head slowly emerged from the where the buck had came. I quickly threw my binoculars up and realized right away it wasn't another deer but the big hairy face of a cougar! I was surprised to say the least. There are cougars in this region but they are few and far between. I tried to get my Camera turned on and ready to get some film but the Cougar had turned tail and run the opposite way before I even had a chance. We went and checked out his tracks and the snow was so deep you couldn't see the paw prints. Just the marks from it's belly dragging in the snow. If we hadn't of interrupted I
think the cat was probably stalking the buck for dinner. That would have been awesome to catch on film.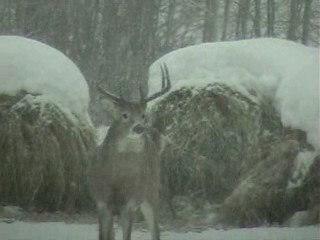 The next few days brought much of the same deer into the area with at least one new buck coming out to feed every day. By the tracks and trails left by the bucks it was obvious the big guys were coming out later in the evening into dark. I was hunting the tail end of the season and there was one whitetail taken of this property that I knew of earlier on.
This buck on the left was probably the second biggest whitetail buck that I came across this year. He
was a good 4×4 but lacked a bit of height and mass. He is going to be an impressive buck in a few years though. I'll be watching for him.
There is some good video footage of this buck play fighting with some of the smaller bucks that were out this particular day.
Most of my time was spent still hunting whitetails. Although I did go hiking a few days through some of the blocks of timber between fields looking for a muley which turned up nothing but a pile of sign. I did see plenty of legal bucks while using the truck as a ground blind though 🙂 I have held out on mule deer for the last 3 seasons now. Maybe next year will be the year I run into my buck…
I hunted long hours everyday and never did come across any bucks that I wanted so I'll be eating tag soup this year.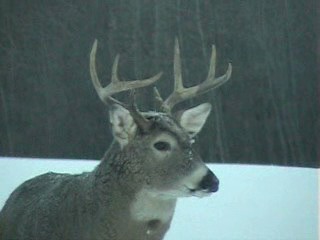 Here is some of the video footage that I took on this trip.
The video is almost 5 minutes long and has a few different whitetail and mule deer bucks that I encountered along the way. I hope you enjoy. It's time to get busy planning my LEH Mountain Goat hunt in region 6.
Happy Hunting!
Carl
PS… I forgot to post this first time around. I purchased a buffalo from a rancher in the FSJ area and went out to the ranch the morning of the day I was leaving. I took a hefty 2 year old bull and ended up with close to 400 pounds of some the finest meat available. No growth hormones.
Click Here For The Buffalo Shooting Video