Black Bear Meat- A Healthy, Natural Dog Food.
Black Bears are abundant in the province of BC, but for most hunters the meat isn't something they are interested in eating, and quite frankly I don't really have a taste for bear meat either. Having been in on a recent black bear hunt my friend was not interested in processing the meat, so he gave it to me under the premise I would use it to make a natural and healthy food for my dog.
Bear Meat is safe for humans when cooked to specific temperatures, so I really couldn't see any reason that it wouldn't be fit for my dog, when cooked properly.
I hit up Google and started looking for some basic dog food recipes, and what
to include for veggies and the like:
Bear Meat
Carrots
Mixed Grain Rice
Celery
Sweet Potatoes
It seemed to be widely suggested that you mix your meat and veggies in a 4:1 ratio. 4 Parts meat, to 1 part veggies.
The process was pretty simple as goes as follows.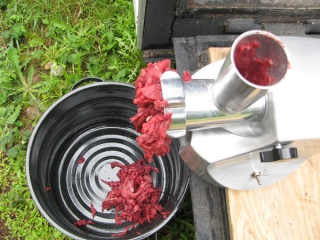 1. Cut up bear meat. I took my time and cut most the fat off the meat and then trimmed it into thin strips that would easily fit into my Waring Pro meat grinder.
2. Cut up veggies (Carrots/Sweet Potatoes/Celery) and put in big pot of boiling water. Boil till they are somewhat soft.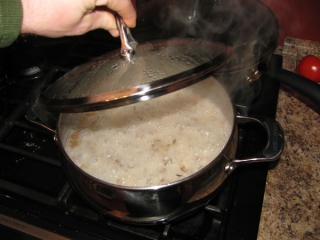 3. Prepare Rice – I bought a big bag of mixed grain rice from Costco. I think I used about 6 cups of rice and the appropriate amount of water.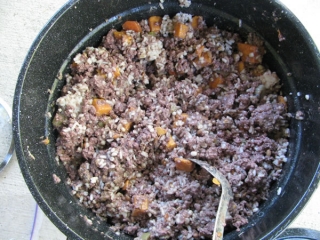 5. Put meat in pot and boil outside! – I let mine go for about 3 hours, and there was 40lbs of meat or so in the first batch.
6. Once meat is cooked, stir in veggies and rice. Let cool.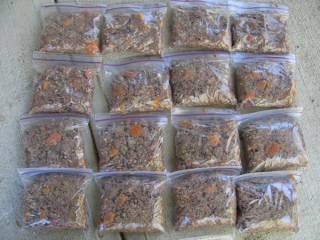 7. Once cooled, scoop into ziplock bags or containers of some kind and freeze.
Your average back bear should easily provide 200+ lbs of natural, healthy dog food that your pet will love. Your only problem is going to be finding freezer space!