Exped Downmat 7 Sleeping Pad Review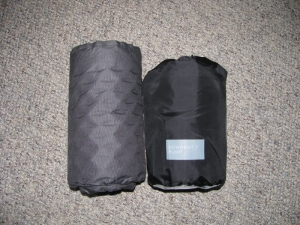 I am no stranger to insulated sleeping mats, and have been using thermarests for many, many years.  I actually have one of the "original" Thermarests from the early 90's and it's still in use…  They truly are excellent sleeping pads.   I honestly never thought the day would come that I would willingly give up my current Thermarest ProLite 4 sleeping mat.  We've seen the day… I first heard about the Exped sleeping mat while on a trip to Wholesale Outdoor Sports in Nanaimo.  Specifically, I was looking to see if they had a Thermarest "Neo Air" in stock so I could have a look at it.
The clerk said "Not yet… But have you ever heard of the Exped Downmats?"… He went onto say "I went on a camping trip a few weeks back and brought one of these along and it was the most comfortable sleep I've ever had outdoors".. "Oh… I said" not really taking much stock in his testimonial, but it did pique my curiosity enough to do some online research and what I found out quite impressed me.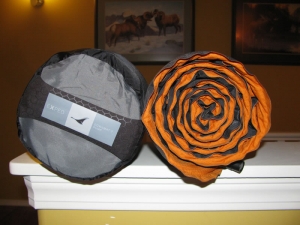 The phone call came several weeks later, and my Exped Downmat 7 had finally arrived in the store for pickup… The second piece of good news was to find out it was on sale for $139.99 as opposed to the listed $169.95 (It's now $199.95)
The reasoning for my decision was quite simple… The Exped Downmat 7 seems like a better product. This coming from a guy who's spent hundreds of nights over the last 20 years sleeping on Thermarests!
Seriously though… Look at the product specifications.
Exped Downmat 7R-Value = 5.9*
Weight = 1lb 15oz
Thickness= 3″
Fill = Goose Down
Temp Rating = -24 ºC
Thermarest Prolite 4R-Value= 3.2*
Weight = 1lb 8oz
Thickness= 1.5″
Fill = Urethane Foam
Temp Rating = Not Listed
*R-Value is some scientific jargon that measures the transfer of heat through an
object. The higher the number the better it's insulating properties.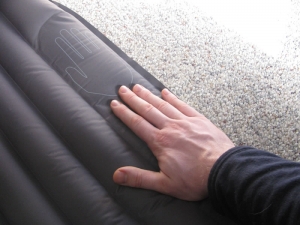 For me personally… I don't mind packing the extra 7 ounces of weight. It provides nearly twice the insulation value and is also twice as thick which means I'm going to sleep warmer, and more comfortable.  When packed up side by side the Exped Downmat 7 is actually slightly
smaller
than the Prolite4, which is interesting considering the Exped is also not cut to a taper for your feet like the Prolite 4. Obviously the down is more compressible than the foam inside of a Thermarest.  My Thermarest hasn't done me wrong, and it's held up in some pretty rough and rocky terrain the last few years and still has yet to spring a leak or fail me in anyway.
The Exped Downmat 7 has big shoes to fill…
What Are My Initial Thoughts?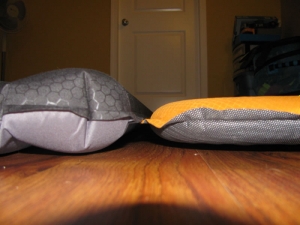 When the sleeping mat was finally in my hands,  I was impressed with it's compressibility.  It was packed down much smaller than I had expected, considering it was nearly 7oz's heavier than my Thermarest Prolite 4.  It actually packs down slightly smaller, which was even more impressive.  The shell materials felt tough enough, and the overall construction of the sleeping pad seemed quite solid.
After pumping the air mattress up, using the built in inflator (it takes longer than the advertised 2 minutes) I pumped up the mattress and along with my Prolite4 to compare the two…  The Exped (as advertised) was a hair over 3″ thick, which is twice the thickness of my Thermarest.  I was excited to get this mat out into the field so I could try it out…  My past sheep hunt (August 2010) was just the trip.
How Did The Exped Downmat 7 Perform?
First Off… I have to begin by saying, I have NEVER had a more comfortable bed in the mountains then the Exped Downmat 7.  I was really impressed with the level of comfort the Exped offered, it truly is a comfortable air mattress.  In total I spent 9 nights in a row using the Exped downmat and I don't have a single complaint about the product other than the fact that it's the most expensive air mattress I think I've ever seen.
Night after Night the Exped downmat, kept me warm and comfortable.  The difference in comfort level from the Thermarest to my Exped was like night and day, it would be totally unfair to compare the two… If you think your Prolite4 is comfortable, you need to try an Exped.  It was like sleeping on a heated cushion full of air.
The durability of the outer fabric on the Downmat, also impressed me, Camped up high, on a small rocky ledge I was worried the uneven rocky ground might puncture a hole in the material (we didn't have a groundsheet under our tent) but the material held up amazingly well for several days while camped up high.  I had the patch kit along just in case, but don't think it's going to be needed anytime soon, it's a really durable outer shell.
What Are My Final Thoughts?
If you are looking for one of the warmest, most comfortable backpacking air mattresses on the market then you need to try out an Exped.  They aren't the lightest on the market, but for the few oz's more they weight it makes up for it in comfort and warmth 10 fold.  For me it was an easy decision, with my sleeping bag upgrade to the Valandre Bloody Mary, I had already shaved a little over 2lbs off of my pack weight, so the extra 7oz's the Exped weighed was nothing too me.
I strongly recommend this product to backpack hunters, no matter where you hunt or what season, this backpack sleeping pad is truly the cats a$$.
What are the Pros:
Thick & Comfortable
Very Warm
Packs Down Small
What are the Cons:
At $199.95 I think it's overpriced.  At $169.95 it was already more expensive than almost all other sleeping mats.
I am not a fan of the internal pump, it works, but it's not that fast.
Overall I am happy with this purchase, and it's now my "go-to" sleeping pad for all of my outdoor exploits.  It's a great product, but try and find it on sale if you can… $199.95 for an air mattress is a tough pill to swallow, but it's something you'll have in your kit for many, many years.
Congrats on an excellent product Exped.
Carl