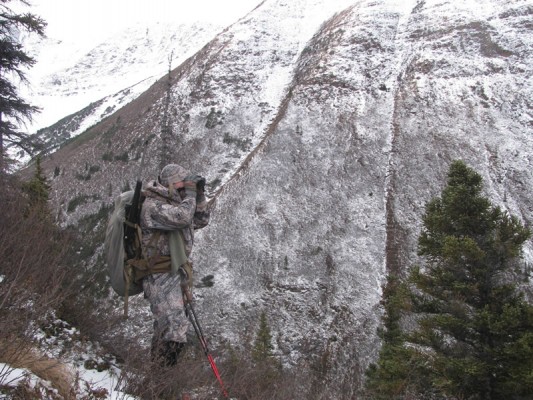 This year we had the pleasure of taking on Sitka Gear as an advertiser on our website.  FTC requires we provide full disclosure on our relationship with sponsors.  Sitka provided us with this gear in exchange for our published feedback on the product, good or bad.  There is no agreement in place as to what I can, or cannot say, but the gear was provided in exchange for advertising on our site.  Now you know!
Having spent the last 6 Stone Sheep seasons hunting primarily in August or early September, this year we wanted to try our hand at a late season October hunt.  The first thing we had to start thinking about was upgrading and acquiring some new warmer gear for the winter weather we'd be experiencing in Northern BC.
Sitka's Coldfront Jacket and Pants made out of a Goretex softshell and featuring their "open country" camo pattern seemed to be a worthy contender.  Advertised as 100% waterproof, this jacket/pants also has a thin layer of microfleece liner on the inside to help keep you warm.  We decided we'd give the Coldfront a good run.
What Were My Initial Thoughts?
It's very well put together gear, no question.  The design of Sitka gear continues to improve from their user feedback and it's evident in the functionality of the goods they are producing.  This top tier gear is however, very expensive if you pay full retail and as any smart outdoorsman would know, it's probably best to be patient and wait for it to come on sale… Because it does.  There are other companies making Softshell Goretex jackets and pants that are in similar price ranges, but they don't come with the open country camo pattern either.  If you spend a lot of time in the hills that's a deal breaker.
Sitka "Open Country" camo is absolutely perfect for the mountainous terrain we hunt in Northern BC and for that matter much of what we do down here on the coast, like black bear and deer hunting in clear cuts and slashes   For someone who just started wearing camo (I've always worn mountaineering type clothing) I was very impressed with how well the pattern allows you to dissapear into mountainous surroundings.  In fact… I really don't think you'll find an equal on the market right now as far as camo patterns are concerned.
The fit was very small (or athletic) and we had to exchange sizes, I went from a Large to X-Large in both the pants and jacket.  At 5′ 10″ and about 200lbs the Large fit, but it was a very tight fit, and wouldn't allow me the option of much layering.  I'm one of those guys that usually hovers between sizes but with Sitka I think it's a wise decision to "move up" a size especially with their outer layers.
The Coldfront is very comfortable to wear and once we moved up a size, offered great mobility, even with our loaded hunting pack on.
Sitka sends the gear quickly if you order direct, I don't think anything has taken longer than 5 days to get to Canada.  They box the gear up nicely for you, sealed in plastic, along with a Sitka Catalogue, a Sitka Sticker and a Warranty sheet to send in with your clothing should it ever need repair or warranty replacement, it's obvious Sitka cares about customer service.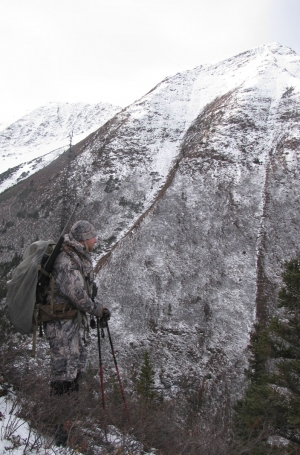 So How Did The Coldfront Perform?
Overall, on our sheep hunt, I was very impressed with Coldfront.  Our first few days of hunting consisted of a multi-mile hike up a seldom travelled drainage and into some low timbered mountains that sheep tend to travel on during later season.  As we gained altitude it become very apparent we were hunting in winter.  The drainage we were hiking up was full of ice, and was pretty treachurous hiking actually, there were a few slips and falls, and many close calls.
The first few days we didn't have much for moisture or for rainfall as everything was frozen.  The Coldfront Jacket and Pants were comfortable enough to wear all day in the cold, while hiking and with my pack. There is no doubt that the Coldfront along with the Sitka layering system (reviews are upcoming) definitely helped take a bite out of the cold windchill along the ridges we were hiking and glassing.
Another feature I really liked about the Coldfront (and this is on the Stormfront as well) was how well everything is organized and placed.  The pockets are all in great locations and hold all kinds of my junk.  The little arm pocket on the left hand side is where I kept my hunting license all year long, in a little ziplock bag for extra waterproof insurance.
After our sheep hunt, (unsuccesful by the way) we returned back the Island where Blacktail Deer season was in full swing.  The remainder of October, all of November and 10 days of December were spent chasing Blacktails.  I am fortunate enough to live right in the middle of some fantastic Blacktail area and can literally hunt 2 minutes from my door.  Every morning, and most evenings I was able to spend about 2 – 3 hours in the field at prime time.
The climate on the Island a stark contrast to the cold, dry north, the "wet coast" weather put the Coldfront through a good test.  Many mornings I awoke to the sound of pouring rain and wind roaring through the valley… Perfect Blacktail weather if you've got the gumption to stay out, and the Coldfront allowed me to do just that.
One area of note that was an important test for me, was how well it would stand up to travelling on a quad, while it was raining.  The driving rain you experience on a quad is enough to blast through most inferior rain gear, leaving the hunter with a soaked chest, legs and crotch.  The Coldfront kept me bone dry under these circumstances… When kneeling down, in wet terrain (mossy rock) for extended periods of time, water DID seep through the stitching in both knees, not enough to make me upset, or uncomfortable as I didn't even notice it in the field until I got home to take my gear off.  It happened on several different days, so it's definitely something that could be looked into.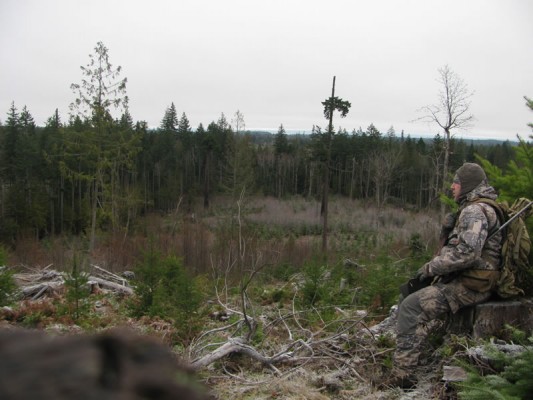 Are The Coldfront Jacket and Pants Quiet?
This was a concern I'd read about on many forum posts, and some reviews from others.  Many were worried about the noise being made from the softshell Gore-Tex and if it was really that quiet.  I am unsure if these guys are running while they hunt or what?  While there was a bit of noise from the pants while walking the Jacket is fairly quiet.  If you're pushing bush, nothing will be as quiet as fleece.  One area they could really improve the pants would be to have some sort of tightening strap around the knees.  This would allow the wearer to cinch in the excess fabric that might rub together when you walk…. Just an idea.
My only disappointment with the Coldfront was with my Coldfront Pants.  During Blacktail season here on the Island my hunting consisted mainly of quading to my "general area" before first light, and then quietly walking about 3/4's of a mile into the slashes I was hunting.  A few minutes after leaving the quad you must cross a small creek that sits in the bottom of a small ravine… Maybe 30-40 feet wide at the most.  As I was climbing down the muddy bank into the ravine, prior to crossing the small creek, I slipped and fell onto my ass, sort of sliding down the hill a little… Oh well, got back up, crossed the creek and kept hunting, saw a good buck that I had no opportunity at, and went back home a couple of hours later.
When I took my gear off I had a 2″x 2″ rip in the butt of my Coldfront pants, right along the seam as you can see pictured.  I was a little disappointed, because the gear had help up so well while sheep hunting and crawling through some pretty nasty buckbrush without issues.  Fall in the mud and I blew the ass out of the pants!  Hopefully Sitka can help me out on this front and either replace, or I will be happy to pay for repair.
Sitka Coldfront Jacket Pros:
Very good fit (when you get the right size)
Open Country camo is unreal at breaking up your outline.
100% waterproof (our jacket didn't display any signs of leaking, after many days in very heavy rain)
fully taped seams.
full length pit zips. (definitely makes up for breathability issues)
hood has excellent fit and the brim stays up.
softer/quieter than a hardshell outer layer.
Sitka Coldfront Jacket Cons:
I think these jackets are cut too short, an extra inch or two of length below your waist would be welcome.
the zippers are quite small and hard to grab with gloves on.
the camo pattern on the outside melts away if you touch it to a woodstove!  Don't do this!
this is an expensive jacket – watch for a sale.
Sitka Coldfront Pants Pros:
Kept me dry in several downpours while riding on a quad.
Lots of pockets and lots of room in those pockets.
Built-In Suspenders, I never realized how much I'd like them!
Full-Length leg zips make them easy to take on-off with boots on.
Full-Length leg zips help greatly with keeping your legs ventilated if you're hiking.
Sitka Coldfront Pants Cons:
Not happy about tearing a hole in the butt.
Little bit of water leaking through knees.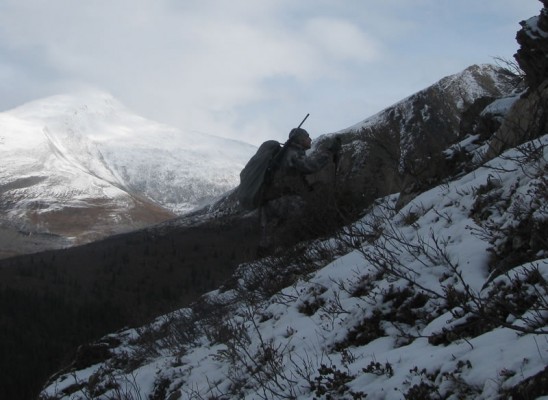 To conclude our review, overall we are quite happy with the performance of our Sitka Coldfront gear.  It kept us warm and dry through plenty of wet and cold weather hunting throughout British Columbia.  When compared to other outdoor gear in it's class (Gore-Tex Softshell) Sitka is generally right in line with others pricing, but with one distinct advantage.  Open Country Camo… If you want to dissapear in the mountains, this is the camo pattern that will do it for you, no question.  If you are patient enough to wait for this gear to come on sale at one of many retailers who stock it then you'll end up with some excellent camo rain gear at a very good price.
If you have any questions about the Sitka Coldfront, or want to add anything or feedback to this review, please use the comments section below!
Thanks For Reading!