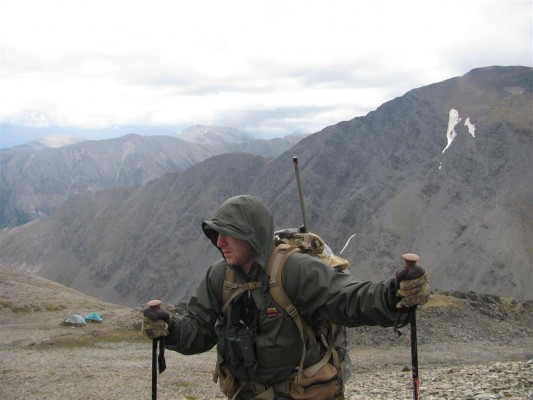 A few years ago I put out the first version of my backpack sheep hunting list, after a few more trips and miles on the trail I've upgraded some gear and refined the list a little more. This list isn't the be-all-end-all of sheep hunting gear lists but it's a good start, I may have missed a few items and will add them over the coming weeks if thats the case.
The total weight for all the gear on this packed up and ready for the trail is approx 60lbs. My partner usually packs the vestibule, saw, and our 3rd partner packs the stove and water filter bringing the total pack weight, including rifle down to about 54-56lbs which is a very respectable pack weight for a 7-8 day backpack hunt. Adjust your food accordingly for a longer duration trip.
Sheep Hunting Gear List 2012
Weight Lbs
Weight Oz
Notes:
Preferred Pack: Mystery Ranch MR NICE 6500.
9lbs
8oz
This is a great pack for all of your backpacking hunts. Lifetime warranty too.  MR 7500 or Barney Hunter/Yukon are also great choices.
Pack Cover: Integral Designs Silcoat (X-LG)
3oz
Handy item to keep your pack dry.
Boots: Hanwag Trapper Top Elites 12.5US.
These boots are awesome. Read my review.

Sleeping & Shelter

Valandre, "Bloody Mary" Down Sleeping Bag
2lbs
6oz
This is a high quality, very lightweight and warm down sleeping bag. Perfect for 3 season sheep hunting. Read My Review.
Exped Downmat 7
1lbs
13oz
Twice as thick as my Pro Lite 4 and nearly twice the insulation value, yet only weighs a few ounces more. Read My Review.
Siltarp II
15oz
This 8'x10′ tarp is a must have in any backpack hunters pack. They make a larger version. Read My Review.
Hilleberg Allak 2 Man Tent
7lbs
6oz
This is an expensive 4 season tent but has two side doors with vestibules making it very convenient for two guys.
2 Industrial Size Black Garbage Bags.
We use these as ground sheets for our tent. Not to mention many other uses.

Food, Water & Cooking

JetBoil Stove (Cooking Cup, Burner, Drinking Cup & Lid)
14.6oz
Hands-Down the best stove solution for a backpack hunter eating freeze dry meals. Read My Review.
1 Large (230g) Jetboil fuel canister
12.8oz
My partner carries the other one… Between the two we have plenty of fuel for 8-10 days.
Katadyn "Vario" Water Filter
1lbs
4oz
This little filter always comes with us now. Read My Review.
Mnt House Meals 7 Dinners 7 Breakfasts
4lbs
1.4oz
I prefer Pasta Primavera, Beef Stroganoff, Stew, Lasagna, Sweet Sour Pork, Chicken Breast W/potatoes.
8 Clif "Builder" Energy/Protein Bars
1lbs
4oz
Buy a case at Costco for $20
1 Spork
Sporks are awesome.  If you don't have a spork you will fail.
Snacks, Chocolate, Jerky, Trail Mix etc…
4-5lbs
I usually have a snack at lunch and then a couple more throughout the day. Adjust accordingly for you.
10-12 Emergen-C Drink Packets
These little drink packets are packed full of vitamins/minerals/electrolytes and are handy to have.  Get at Wal-Mart or Drug and Health Food Stores.
1, 1.5 liter nalgene
(w/carabineer)
Use the carabineer to clip on the bottom of your pack shoulder strap. I can easily grab my water bottle this way, and you'll never know it's there.
2 1 liter platypus
water bladders.
I only fill these if we need to store some water, otherwise they stay tucked away in my pack.

Clothing

3-5 Pair Thorlo Level III Trekking Socks
(approx 4.6-5oz each pair)
1lbs
5oz
These are the best socks I have ever worn in the mountains. They are thick, so make sure you can still fit in your boots.
1 pair merino wool liner socks
I only throw these on if I develop a hot spot.
Hiking Underwear (willy wickers – 2 pair)
5.4oz
To prevent chafe you want a light-weight, highly breathable synthetic underwear. Gold Bond Helps.
Thermal long-underwear (1pair)
I wear these to sleep in at night.
Sitka Timberline Pants. (1 pair total)
2lbs
4oz
These pants are fairly light, have a built in belt and suspenders and lots of pockets.  They also come in open country camo. Perfect for mountain hunting.
Wick-a-way t-shirt (2 t-shirts total)
9.6oz
Just a light moisture wicking base layer t-shirt.
FirstLite Or Ice Breaker Merino Wool Shirt (2)
12.5oz
I like to take 1 or 2 mid weight merino wool sweaters.
Mid-weight Fleece
11.4oz
Just a "North Face" mid weight polar fleece.
Sitka Mountain Gloves
 5.79oz
After a few miles scrambling through rock and scree your fingers will be raw. Wear gloves.
 1 small pack towel
 2oz
 This straps onto my pack and I use it to wipe away sweat when hiking and trying to glass.

Rain Gear

Integral Designs Thru-Hiker eVent Jacket
13oz
This jacket is light, 100% waterproof and breathes better than most others on the market. Canadian Made too.
Integral Designs Thru-Hiker eVent Pants
12.4oz
Same as above, but these are pants.
Light Weight Gore-Tex Gaitors
Any will do. They really help for bustin' brush and crossing creeks.
Light Weight Gore-Tex Hat
Handy for keeping out the sun/rain.

Camera/Optics/Gun

Canon 110S Digital Camera
An OK digital camera with 10x optical zoom.
Zeiss 85mm 20×60 Spotting Scope w/eyepiece
3lbs
13oz
This spotter comes in really handy. Heavy, but it makes up for it by saving you lots of walking.
Swarovski 8×30 Binoculars
1lbs
9.3oz
Great, light weight set of binoculars, W/Crooked Horn Binocular Harness Attached.
Manfrotto 718 SHB Tripod
2lbs
11oz
This tripod is fairly light but lacks the sturdiness for the larger 80-85mm spotters. If you buy make sure you get the metal locking plate, not plastic.
Tikka .270 Lite S/S w/Bushnell 3200 Elite
7lbs
1oz
Very happy with this gun/scope combo.

Safety Gear

First Aid Kit
5oz
This is just a standard first aid kit to take care of sprains, breaks, cuts, bruises, burns, blisters and pain. It includes:
Bandaids of assorted sizes, Gauze, Moleskin, Antiseptic, Ibuprofen, Nail Clippers, Emergency Blanket, Eyedrops.
SPOT satellite tracking device.
7.3oz
This is an absolute must have for any backcountry hunter. It could save your life one-day. Read My Review.
Garmin 60csx GPS
7oz
Great GPS with mapping, altimeter etc..
Myo XP Headlamp w/3 AA batteries
6.4oz
Very powerful headlamp… There are smaller/lighter ones available but this was a gift.
Laminated Google Earth Maps
 These make a great compliment to your GPS and give you a visual aid when hiking around the mountains.

Trophy Care

Salt (NOT Course Salt)
1.5lbs
1.5 pounds for a shoulder mount that's been well caped out. Use your own descretion as to how well you can cape, and how fast you can get it to a taxidermist.
Havalon "piranta" skinning knife
3oz
This knife will be replacing my handmade knife. It's light weight and features interchangeable blades that are always razor sharp.
12 Havalon 60XT Knife Blades
1.2oz
These are the easily changable knife blades for the Piranta skinning knives. They are incredibly sharp.
2 Game Bags
6oz
Just two quartering bags will be sufficient for a deboned sheep/goat.

Misc Items

Gold Bond Powder (you'll thank me)
When you start sweating you know where, Gold bond comes to the rescue. A trick from my Rugby days.
2 Packs Baby Wipes (you'll thank me)
Toilet Paper will cause a rash, especially if you are sweating lots. Baby Wipes help.
Small Container Sunscreen
self explanatory
Small Container Lip Balm
self explanatory
50′-100′ of rope (many, many uses)
Set up your camp, tie down tents/tarps, hang meat, haul meat, retrieve game… It's handy, bring it!
Extra waist buckle for pack
It would suck to break one out there and not have a replacement.
Extra Boot Lace
It would suck to break one!
1 small roll tp
I try and take a 1/2 roll from home, along with my baby wipes.
Trailblazer buck saw
This light but sturdy saw is very handy if you are camped low enough to have access to wood. It also works well for cutting the antlers/horns off of your skulls.
ZIP Fire Starter (few chunks)
I buy this at safeway.  It's very light, burns good but stinks really bad.  Double bag in ziplocks.
2 bic lighters
1.4oz
An essential survival tool. I have one in my pack, one in my pocket.
Travel Tooth Brush & Tooth Paste
2oz
Brush your teeth after meals. Mountain House likes to stick around.
[box color="green-mute" type="square" icon="lightbulb"]
Do you have any questions about this Sheep Hunting Gear List?  Let us know in the comments section below and we'll be happy to answer them for you.
[/box]