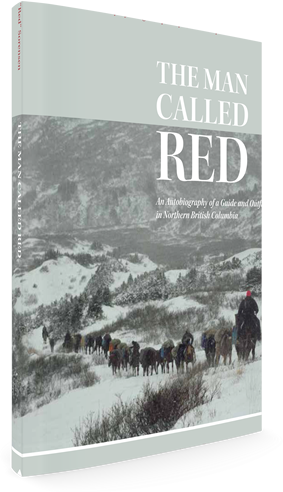 "The Man Called Red" is an autobiography about my Grandfather, N.B. "Red" Sorensen, written and published by himself.  It'd be lying if I didn't say I was a little biased but it's an excellent book about a man who lived a life and lifestyle that many can only sit back and dream about.  No, it wasn't a wealthy life or one of someone who travelled around the globe, it's rather a story of someone who grew up in a much simpler time, without the hustle and bustle of our fast paced society today.
From saying goodbye to his family to join the travelling circus and exhibition at only 13 to homesteading off the remote Alaska Highway to becoming an accomplished bush pilot (walking away from a few crashes) and eventually cementing his name among some of the other very well known "old time" outfitters who helped pioneer our north country and the hunting industry in British Columbia.
From as far back as I can remember, my Grandpa was a hero of mine.  I'd spend the entire school year down on the Island, day dreaming about "The Ranch" which was their base camp at mile 442 on the Alaska Highway.  It would always take a few days for us to travel there at the end of every school year but once we arrived we could count on having many adventures throughout the summer.
He'd fly us kids around the mountains in his supercub (me mostly haha!), we'd ride horses in packstrings, go fishing in untouched rivers and lakes, play in the hot springs and for me personally I got to learn about hunting and the outdoors from a perspective that many young people don't get today.
It was an experience that would captivate and contribute to shaping the life of any young man and to this day those experiences are some of my most memorable and keep drawing me back to that area year after year for new experiences.  The book was a great read for me because aside from the trip down memory lane, I learned a lot about my Grandpa that he just never said or told us as kids.
He lived a different live and did the best he could, with what he knew how.
If you enjoy tales of outdoor adventures, enduring life's hardships, funny stories and the occasional hunting tale mixed in, then this would be a fantastic book for you or a loved one if you know anyone who enjoys reading about some of the colorful characters that have helped shape our province and it's many diverse industries!
Buy The Man Called Red Here
(My Grandpa Red Self Publishes This Book – It's Best To Buy Direct From Him)