Ronyn Wear Waterproof Fleece Camo Review.
Product: Ronyn Wear Waterproof Fleece Camo Bomber Jacket & Pants.
Pattern: Realtree Brown
Price Paid: $149.00 USD (Included Shipping) on eBay.
I discovered Ronyn Rugged Outdoors waterproof fleece camo while surfing around eBay one night. They were auctioning off sets complete with pants and a jacket at a price any hunter could easily afford. I was interested so decided to dig a little deeper before making my purchase decision.
The Ronyn waterproof fleece camo is made from a 100% polyester low pill (resists burring) polar fleece material that is laminated with a waterproof breathable Gore-Tex like membrane that can provide protection in some of the most extreme seasonal weather conditions. All Ronyn garments are constructed with a black, 100% brushed polyester lining that won't cling to your underclothes.
The fleece camo comes in 4 different patterns, Realtree brown, Realtree Grey, Mossy Oak Treestand, and Advantage Classic hardwoods.
I was looking to get some waterproof camo for Stone Sheep hunt of 2005 and decided that I would give Ronyn camo a try. I ordered pants and a bomber jacket in a realtree brown pattern. I ordered the non-insulated version. Everything was size Large.

Shipping took about 5 days and I had the camo at the door. At first glance I was extremely impressed with the quality and materials of the camo. The jacket fit really well and the lining on the inside made it comfortable to wear with just a t-shirt. The outside of the jacket was very soft and obviously would make very little noise while going through any kind of brush.
The pants were also very good quality but I did find the fit was a little large around the waist and long in the leg it's not that bad though if you like to have on multiple layers. And it's nothing that couldn't be fixed with a belt. There are huge pockets on these pants and you can easily carry any gear you'd need for a day or several in the field. The side pockets are large enough to hold my 8×30 swarovskis, sony video camera, extra shells and more… The knees are reinforced as well as the butt these are solid pants.
Before my hunt I started hiking around some smaller hills locally with my camo and pack on as I planned to be in the field and it was then that I realized that I might have made the wrong choice of camo for my sheep hunt. This is awesome camo don't get me wrong. But the pants are fairly heavy and if your hiking with a weighted pack they simply get way to hot. I found my legs sweating to the point that it was uncomfortable. This is even the non-insulated version so it's warm gear no doubt about that.
The jacket was okay to wear if it was raining or cold but for hiking around it was also way to hot for my comfort. For backpack hunting both the pants and jackets are quite heavy compared to some of the more compact and lightweight gear available but I highly doubt you'd be getting the same quality and comfort with some of the lighter gear. On my sheep hunt this year I took only my jacket and while it still takes up some room in the pack it was sure nice to slip on when you wake up at 5am to start glassing for sheep. I was glad I packed it in.
Where my Ronyn waterproof camo has really proven itself was on my deer hunting trip of 2005 and my spring bear excusions on Vancouver Island during 2006.
While deer hunting November in region 7 the temperature got to near -18 degrees. I wore my ronyn wear bomber jacket and pants with nothing but long-johns underneath and was ample warm enough. This was the non-insulated stuff to by the way. The camo patterns seemed to work very well and broke up my
outline and shadow. I was able to stalk within 100 yards of my whitetail buck in almost plain view while crawling on my hands and knees. The camo was absolutely silent as I moved through the brush which was a big plus.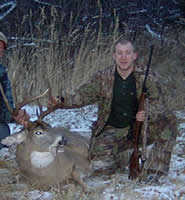 I also put the camo to the test while spring bear hunting the island this year. The camo proved to be an awesome addition to my hunting gear collection as it constantly put up with the beating I gave it hiking through the rain drenched forests of Vancouver Island. The camo pants & jacket kept me dry and comfortable all day and since I wasn't carrying a pack the over heating problem was non-existant. I really was impressed with how this camo performed.
If I were to change anything about my Ronyn camo I would do a few things….
1. I would make the pockets on the bomber jacket either zip-closed or button closed. You have to be careful storing gear in the bomber pockets as they are just flaps and rather shallow. I lost my dads hunting knife out the pocket while I was taking a shit in the woods. No Joke. I had to go back out into the bush at 10pm at night and search for two hours till I finally found it and was able to put the story together 🙂
2. I would have some sort of mechanism on the bottom of the leg to tighten it up around my boot. I found as the pants got really wet that they started to drag down at the back of my boot.
3. If Ronyn offered a snow-camo pattern I would buy it in a heart beat. This fleece camo is absolutely perfect for winter hunting conditions.
Bottom Line – If your heading out on a backpacking trip this Camo should be left at home. While comfortable it is too bulky and heavy to efficiently pack with room to spare. On the other hand if you're heading out via quad, pickup or horse into rough, wet and cold conditions I wouldn't leave home without my Ronyn Rugged Outdoors waterproof fleece camo.
Happy Hunting!
Carl