Sil-Tarp II Gear Review
Product – Integral Designs Sil-Tarp II.
Size – 8′ x 10′
Price Paid – $125.00 At M.E.C. Victoria.
One of the exciting parts about planning a hunting trip is going out and
purchasing some new gear. For my backpack sheep hunting trip I went on this year I spent a bit of money upgrading some of my gear with the latest gadgets and goodies.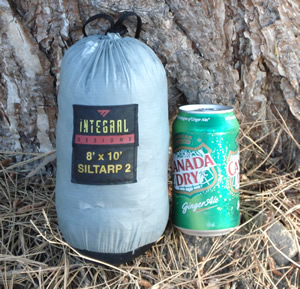 This year one of the pieces of gear I decided to purchase was the Sil-Tarp II
made by Integral Designs. This is an 8′ x 10′ silicon impregnated lightweight tarp designed specifically for backpack excursions. They are extremely lightweight and compact down nicely as you can see in the photo. I had heard about these tarps on various hunting and backpacking forums and figured it was about time to see what all the fuss was about.
If you've ever hunted the mountains in British Columbia you'd know that you need to be prepared for rain and plenty of it. A lightweight tarp seemed like a practical idea to me. After doing a little research on the web and reading a few good reviews I decided to head down to MEC Victoria and pick one up. Normally I wouldn't shop here because they support anti-hunting groups and causes but they had the best price and it was convenient.
I paid $125 plus tax for a Grey Sil-tarp II and was out of there.
The first thing you'll notice when you open up the new sil-tarp is that there
is a tube of sealant inside. You'll need to use this to seal the seams of your tarp. This is rather inconvenient to do but will help prevent any water leakage at the seams of your tarp.
I sealed the outside of my Sil-tarp and there is really only 1 seam you need to do which runs right down the center of the tent. Just a simple small foam or bristled brush work well for applying the sealant. Make sure you have a big enough area outside to stretch out the tarp so you can seal it. Once you've applied the sealant you'll want to let the tarp sit for at least 12 hours and don't put it back into it's compression sack until the sealant has cured as the seams will stick together screwing up your tarp.
They don't give you any instructions on which side of the tarp is outside or
inside but you can easily figure it out. The side with the loops running down the center seam is the outside. These loops are so you can run a line from two trees or whatever you have and the tarp is then strung from the rope and secured down to the ground through the loops running along the edge. This keeps the tarp suspended and prevents your rope from chaffing a hole through the material.
The Sil-tarp really got to prove it's worth in the mountains of Northeastern BC on this years sheep hunt. My hunting partner had a really good Integral Designs single walled mountaineering tent that we used as our primary
shelter. I took my new sil-tarp and strung it so that it was sheltering our tent. In three straight days of rain our tent never even got wet. The sil-tarp shed all of the rainwater off our tent and was large enough that we even had room to store our backpacks on either side of the tent. I was impressed. It was definitely worth packing in for that extra bit of comfort and would definitely come in handy as an emergency shelter if you didn't have a tent.
If you do some extensive backpack hunting were weight is an issue consider
looking into the Sil-tarps made by Integral Designs. I think you'll be
impressed too. It's an invaluable piece of gear.
Happy Hunting!
Carl