Backpack Hunting For Sheep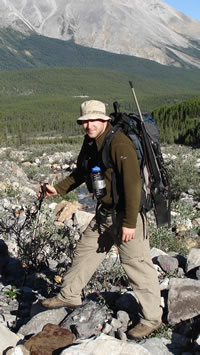 Backpack hunting for sheep is a serious hunt. It's physically and mentally demanding. You need to be able to pack at least 40-50 pounds on your back going in. And If you are lucky enough to take a sheep you are coming back out with closer to 100+ pounds worth of Gear, Meat, Horns & Cape. So you don't want to be packing a lot of excess or heavy gear.
I've been on a few backpack sheep hunts now and much prefer an internal pack for this type of hunting. Sheep are a relatively small animal and are "packable" with most of today's heavier duty internal frame packs. The internal is more comfortable and I find less cumbersome then some of it's framed counterparts.
My pack of choice right now for backpack sheep hunting is from Lowe Alpine and it's a special expedition pack. 70+25 = 90 Cubic Liters. There are plenty of straps and pockets for all of my gear making it very easy to organize everything. The pack is comfortable on my back and I've had it loaded with up to 80lbs and had no problems. If I were going on a caribou or elk hunt then I'd probably want to sacrifice comfort and go with an external frame pack.
Aside from your pack here is a list of the items I currently pack along…
Clothing
– 4 Pair Thorlo Level III hiking socks. (expensive but worth every penny)
– 2 Pair Merino Wool Sock Liners.
– 1 mid-weight polartec fleece pullover.
– 1 light-weight polartec fleece pullover.
– 1 pair North Face Paramount Convertible Pants (2 pairs including the ones I wear)
– 1 pair light-weight thermal underwear. (use these for sleeping in or on colder days)
– 1 pair boxer shorts. (2 pairs including the one I wear – When your in the mountains nobody cares)
– 1 light weight North Face wick away t-shirt.
– 1 pair lightweight rainpants. (rockwater designs)
– 1 lightweight rain jacket. (Keela)
Sleeping/Shelter
– 1 Lightweight backpacking sleeping bag. (good to about -5c – I will upgrade this bag soon)
– 1 Silcoat packcover (essential for keeping your pack bone dry)
– Prolite 4 Thermarest. (I own 3 thermarests. This one is nice & light and compacts very small)
– 1 Sil-Tarp II 8'x10′. (These lightweight tarps are awesome for a fast light weight shelter)
– 1 Integral Designs MK-3 Expedition Tent (This is the tent I am buying)
Equipment/Optics/Misc.
– Petzl Myo Xp Headlamp. (very bright – runs on 3 AA batteries.)
– Handmade Hunting Knife (could shave weight here with a smaller buck or puma knife.)
– 1 pair Swarovski 8×30 Binoculars.
– 1 Bushnell Spacemaster II 20x40x60mm Spotting Scope. (w/lightweight tripod)
– First Aid Kit (Tylenol,Ibuprofen,Antiseptic,Bandaids,Bandages,Gauze)
– 1 Tube firepaste (this stuff is the best firestarter I have used yet – Perfect for backpacking)
– 6 AA batteries. (I could probably get away with only 3 but just in case…)
– 1 TrailBlazer Buck Saw (This handy unit breaks down into a light aluminum tube. Makes getting wood for your fire much easier.
– 12 Federal 130 Grn .270 Rounds (3 in my magazine and 9 on the butt of my rifle)
– 100′ Poly Rope. (Maybe a little overkill but I like to make a good camp)
– Tikka Lite S/S .270 W/Bushnell Elite 3200 Scope. (Great Gun – Accurate & Light!)
– 1 Sony Handycam Video Camera (20x Optical Zoom W/Zeiss Lenses)
– 1 Sony DSC-W50 6.0 MP Digital Camera (Great Small Compact Camera)
Food & Cooking.
– Jetboil Stove (w/2 Canisters fuel – Good for 10 days of boiling water for drinks and meals)
– 2 Liter Soft Plastic Water Container (In case you need to pack extra water)
– 1 1.5 liter Nalgene bottle (Strap to outside of my pack)
Breakfast
– 4 MountainHouse Granola W/Blueberries (Great Filling Breakfast)
– 3 Packets of Maple & Brown Sugar Oatmeal (Great Light Breakfast)
Lunches/Snacks (I don't eat much throughout the day)
– 6 Sun-Rype Fruit Bars. (These are great snacks)
– 1 Ritter Sport Almonds Chocolate Bar. (eat a few squares per serving.)
– 1 Ritter Sport Hazlenut Chocolate Bar. (eat a few squares per serving.)
– 2 Nut & Raisin Chocolate Bars. (eat a few squares per serving.)
– 1 ziploc bag with either Gatorade mix or Iced Tea mix.
Dinners. (all mountainhouse)
– 1 Chicken Teriyaki W/Rice.
– 1 Turkey Tettrazinni.
– 1 Beef Stew (Really Good)
– 1 Chili Mac W/Beef.
– 1 Noodles W/Chicken.
– 4 Pasta Primavera (Really Good)
Total Pack Weight = 45 lbs W/Rifle. (It will be about 51 lbs with my tent when I get it)
One of the biggest challenges when getting your pack ready is how to efficiently pack everything so it's going to be easy to locate and repack should you need to. As you can see in the photo below there is a lot of gear here!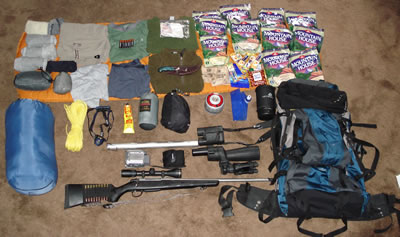 (All Of My Gear For 7 Days Sheep Hunting In The Mountains)
One of the best things I have found is to use those thin mesh draw string bags that so many camping/backpacking supply stores now carry. I can organize all of my gear into the mesh bags and it keeps everything together and packed as tightly as possible. The less volume your pack has the easier it is to navigate through heavy brush or tricky situations.
Here is a another photo of all the same gear but now I have reorganized my Clothes, Socks, and Food into the mesh bags. Look at the difference. It's much more organized and makes it so much easier to handle when you are out in the field. The last thing you want to do is tear apart your bag and repack the mess while your out hunting or on your way to camp. When I am hiking I go non-stop until I reach where I am going.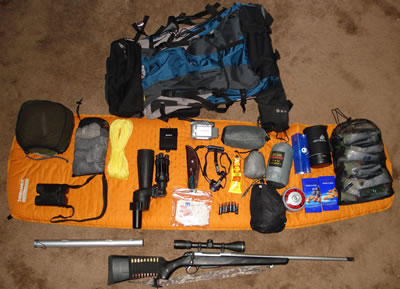 When packing my pack I lay the food in the big mesh bag to your right on the bottom of my pack. I then put my clothes on top of them trying to keep the heavier items towards the center of the pack. I make sure everything is strapped down and the zippers are all closed, nothings hanging out anywhere.
Here are some photos of all of my gear packed up and ready to go. This backpack has some handy straps on the side that work excellent for carrying my rifle around. Usually I prefer to carry my rifle in my hands but sometimes when you are going up a steep climb or side hilling along a mountain creek it's nice to have free hands. (My tent will be attached near the bottom via 2 large buckled straps)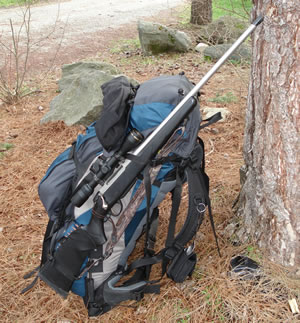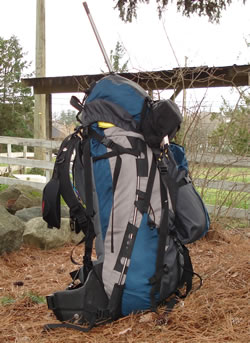 (Here is all my gear fully packed up and ready to hit the hills)
I hope this article helps some of you sheep hunters out there!
Happy Hunting!
Carl