I've been on a few backpack sheep hunts now and every time I go the country I am in manages to chew the shit out of a pair of boots and the same goes for my feet… Hotspots and blisters making the going a little tougher.  When you're that far out in the mountains or woods it's critically important that your feet are meeting the dirt with some quality boots…
This last years hunt August 2006, my hunting partner shared with me a little shop down in Robinson Illinois, called Lathrop & Sons.  Now this is a family of hunters, who not only hunt and run a hunting boot store, but they also have a combined forty eight years of experience in Podiatry and Pedorthic fields (doctors of the foot essentially). 
A quick visit to their website revealed that I would need to complete some tracings and take some digital pictures of my feet.  It's important to have someone else complete these tracings other than yourself as if you're bending down tracing your own feet they won't be loaded correctly and the tracing will come out too small.
You'll need to provide tracings of both feet individually and take them barefoot and then also do another set of tracings with the socks on that you normally plan to wear with your new boots.  You can also take some pictures of your feet and specify and problem areas you have on your feet or any areas of concern, if you have a foot problem these guys have seen it, and know how to help you overcome the problem.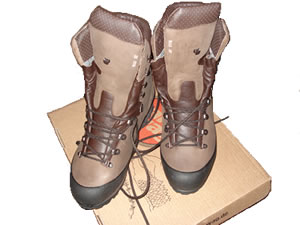 After sending away my tracings and photos I was contacted by Steven and Dusty Lathrop via telephone where we talked hunting for a good 20 minutes or so, they found out what I hunted for, what kind of terrain I was hiking on most of the time, how my old boots were, what they were, any problem areas I had with my feet etc… After several questions and answers back and forth I decided to go with the a Size 12 US and the model I chose to go with was the HanWag Alaska Trapper Top.  I like the added support for my ankles when carrying a heavy pack over the lower cut GTX model.
Along with the boots "system" I was also getting a set of the Lathrop & Sons "High Country Footbeds", a bottle of G-Wax leather waterproofing, 3 pairs of Thorlo hiking socks, and 2 Dri-Zone boot driers.
It took a few weeks to get the boots and when they finally arrived It was exciting… They arrived the same day as my Zeiss Spotting Scope but that's another review… It was just like Christmas… with a sour twist… Because these boots were made in Germany there was a 20% duty to import them… They aren't cheap! If you decide to order a pair make sure you take this into consideration or if possible go through a Canadian dealer if you can find one.  Even with the duty hassle, the personal service and attention to detail that I received has made my selection in a boot provider that much easier…   Even with all of the hassle let me tell you, these boots were worth every penny!
After walking hundreds of miles in what now seem like crappy boots, The difference is like Night and Day…  When I first tried them on they were a little tight, and I was even skeptical that we'd chosen the correct size…  I have a slightly wider foot and the HanWag seemed to me to have a narrower fit…  After a phone call from Steven, and assurance that the boot would break in and fit like a glove I decided to keep the boots and take their word for it.
To waterproof these boots I used the G-Wax that Lathrop provided with my order and applied exactly as the instructions said.  So far so good.  It was extremely easy to apply and it only slightly darkened the leather.I haven't had them out in any serious wet weather or wading any rivers yet but they do seem to shed the rain and water from low hanging brush no problem.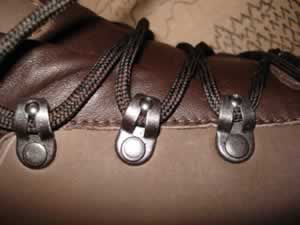 The "High Country Footbeds" that came with the boots are probably some of best footbeds I've ever used in a boot.  Over the last 3 years I've spent about $200 on other insoles and inserts to help alleviate some of the stress on my feet and none of them compare… I even tried the super expensive ones that you mold to your feet by cooking in the oven.  And those were probably the worst of them all!
At the time of writing this review I've now put about 50 miles on these boots with my 60lb pack on.  These miles have all been on local hills and I've probably climbed/descended 40,000 feet (both ways).  It took a few miles but I have to say that Steven was right… They now fit like a glove… Every step I take in these boots feels good… The fit is perfect and my feet feel a lot better too.  The ball-bearing lacing system helps you get just the right amount of "snugness" and really keeps the boots wrapped around your foot preventing any slippage from occurring.  Blistering or hot spots was not even a problem during the break in period and will probably never be an issue in the future with these boots.
Climbing rough and uneven terrain with these boots is a breeze as they grip like sandpaper even when trying to scramble up wet rock, which can be a deadly situation in some boots. Because of the extra rubber on the heel it almost provides some forward assist while walking, keeping your feet in a better position which ultimately makes your feet feel better and last longer when you are pounding on them for several days.
I am looking forward to getting these boots out into the "real" mountains up north so I can quit hiking the same scenery on these local hills.  After 50+ miles in them now the boots have broken in nicely and they still feel great on my feet.
If your interested in purchasing a set of HanWag boots you owe it to yourself to call Lathrop & Sons (618)544-8782
Happy Hunting!
Carl