If there's one thing that can absolutely ruin any backpacking hunting trip it's to spend a few wet and cold nights in a crappy tent that couldn't handle the harsh weather the mountains of BC or any area for that matter can dish out.  When my family was in the outfitting business we were spoiled with the luxury of having horses to pack the gear required for a 2 week hunt.  Packing a 50 pound wall tent on your back isn't really practical for a backpacking shelter so we need to find something that provides the same quality of shelter and a fraction of the size.
I first heard of Integral Designs MK series tents, when I had the luxury of sleeping in one last year on a sheep hunt into the Northern Rockies of BC.  My partner had purchased the tent several years earlier for another sheep hunt he had been on.  Integral Designs is a Canadian company based out of Calgary Alberta.  They have been making expedition quality gear since 1986 and MK series tents have been used by several adventurers while climbing Mt. Everest if that can attest to the quality of these 4 season shelters.  While their products don't seem to be directly marketed to hunters, they can and will definitely stand up to our abuse.
While on my sheep hunt last year the Integral Designs MK III tent performed flawlessly, through heavy rains, wind and even snow.  We stayed dry along with our gear which makes for a much more comfortable backpacking hunt.  This real world experience was what lead me in their direction when I decided it was time to buy my own backpacking tent for this years upcoming Stone Sheep hunting trip.
At first I was disappointed to find out that while Integral Designs is actually located and manufacture their tents in Canada, they cannot sell the tents in Canada due to some legal, mumbo jumbo… I was told by an employee at an outdoor store in the states it's because of the fire "proofness" of the material they use not meeting Canadian standards or whatever… Bottom line… don't light fires in your tent and you should be okay 🙂
These tents aren't cheap so if you're looking for a backpacking tent in the under $500 category you may as well stop shopping Integral.  The MK III set me back just over $700 CAD after shipping and exchange rates.  After searching all of distributor sites for Integral I came to the conclusion that an outfit called C&C Outdoors out of the states was the cheapest price… I bought the tent January 2007 and they were having an inventory clearance.  The tent with the vestibule was $670 which other places were selling the package for well over $700 USD some as high as $800.  I see their price today is at $600 for the tent and $99 for the vestibule with an additional 5% discount.  With the exchange rate close to par now would be a good time to buy one of these high quality tents if it's what you're looking for.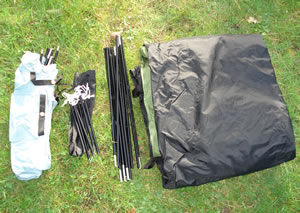 When I ordered my tent, I received a phone call a few days later that they didn't have my color (Olive) in stock and they would have to order more from the Integral Designs factory in Calgary.  There was no additional cost to me, and I got a tent straight out the factory door.  There was a bit of a delay as I had to wait for the tent to be shipped from Calgary to their warehouse in Tennessee and then back to Canada (again for silly legal reasons).  When the tent finally arrived I dove right into the box… Since I had already stayed in one of these tents I somewhat knew what to be expecting.  What I wasn't expecting was no duty or taxes due upon the tents arrival… Not sure what happened there but I didn't ask any questions!
The tent was rolled up into a durable, lightweight stuff sack with all of the poles and lightweight aluminum pegs neatly tucked inside.  The vestibule was rolled into it's own separate little stuff sack along with it's one pole.  Also included with the tent was an instruction booklet that explains the tent, and all of it's features very clearly.  There was a tube of Sil-Net seam sealer to finish sealing off some of the seams on the tent that are taped at the factory but they recommend using some sealant as a preventative measure.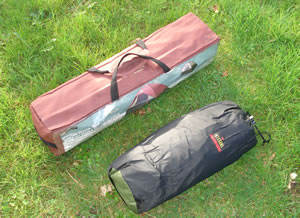 Just for some kicks I took the Integral Designs MK III while it was all packed up and put it next to my previous backpacking tent that I had acquired a few years earlier…  It was a great tent, but was heavy at almost 10 pounds and wasn't exactly high quality.  It's a Canadian Tire $100 tent.  The MK III weighs in at about 5lbs with the poles and pegs and add another pound for the vestibule so about 6 pounds total.  Not the lightest of the backpacking tents on the market but it's probably one of the lightest 4 season tents on the market.  In the picture here you see both tents packed up side by side.  The Integral has all the poles, pegs and vestibule inside in this picture.  As you can see it's quite a bit smaller then my other tent which is the goal of a backpacking tent.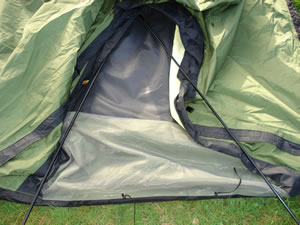 Getting the MK III setup is an absolute breeze…  If the salesperson told you it takes 5 minutes to setup he lied… It's more like 2 minutes if that.  It's not one of those tents where you have to run poles through channels, and slowly erect the tent one corner at a time.  With the MK III you simply roll the tent out and then assemble the poles once you have that done you put the 2 poles across each other and push them into the back corners of the tent.  Simply stuff the remaining end of the pole into the opposing corner at the front of the tent and you now have shelter.  You'll then need to crawl inside and fasten all of the velcro tabs around the pole on the inside which isn't a big deal.  Being able to get the tent up from the inside this way makes it extremely easy to setup when you need shelter in a hurry.
The lightweight aluminum corner pegs (6) that are included with the tent are very lightweight and amazingly strong.  They won't bend like the cheap metal pegs you'll find with most tents.  Peg the tent down in the 4 corners and then use the remaining two pegs for the vestibule.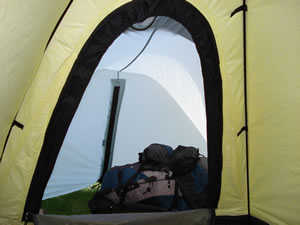 The vestibule that came with the tent wasn't as big as I thought it would be.  It's really easy to setup though.  You just zip it onto the front of the tent, put the pole in and then peg it down on the front.  It's enough room for you to cook in out of the rain if you had your body in the tent itself, there is no way a grown man could fit his body in the vestibule.  I've seen other tents that are a little more generous in this area but it's something that can be overcome with another piece of excellent gear put out by Integral Designs called the Sil-Tarp II.  It's an 8′ x10′ lightweight tarp that you can use as additional shelter and gear cover.
The vestibule does however have enough room to get 2 full size packs and your boots into it to keep them out of the rain.  With all of that shit piled up though you're going to have a tough time getting in and out of the tent at night to take a midnight leak though.  So another reason why I still pack along my Sil-Tarp II (you can read my review on it here).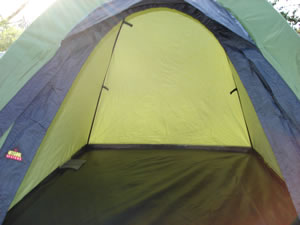 One of the options I wish I had ordered for my tent was the addition of a second zippered window on one end.  This helps greatly with the ventilation as the MK III is a single walled tent and they aren't known for their ability to breath as efficiently as a double walled tent (tent with rain fly).  To combat the ventilation issue Integral has installed some tunnel vents into the top of the tent.  They still don't provide enough air circulation though so it's a good idea to leave the door open a bit too to let the air come in and the moisture out.  There is an awning over the top portion of the door so it's safe to leave the top of the door unzipped 5 or 6 inches which does make a big difference.
The inside of the tent is made with a special layer of Nexus polyester which is supposed to act as a buffer and trap any moisture so it can be then passed to the outside.  It's very soft to the touch and when you wake up in the morning don't be surprised if it's a little damp.  You'll notice it's damp and not your sleeping bag!  This means the fabric is doing it's job.
There is enough room for 2 grown men and their gear to fit inside the tent (vestibule included) but you'd really be pushing it with 3… If you only go hunting with yourself and a partner then it's a non-issue.  If you ever want to bring a 3rd person along they will need their own tent/bivy or you'll need to bring a 3 man tent.  Don't let the high cost of this tent scare you… If you're like me you plan to be hunting for many, many years yet and this tent will last your lifetime if you take care of it.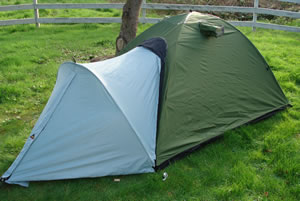 Happy Hunting!
Carl