Integral Designs eVent Rain Gear Review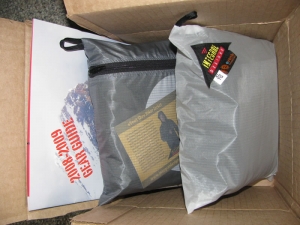 A few months ago, I received a brand new set of Integral Designs rain gear courtesy of Evan Jones, (Previous owner of Integral Designs) in exchange for some advertising on our website, I promised a detailed review after I'd used the products enough and felt confident enough to give some honest feedback.  I've already purchased and been happily using some of their other products (Tent, Sil-Tarp, Pack Cover) for several years now and across several different hunting trips.
If you're here on this website looking for eVent reviews, than I presume you already know what the fabric is, and you're just looking for actual user reviews.  So sparing any sort of marketing pitch for eVent and it's features we'll keep it really simple.  The waterproof breathable garment market has been dominated for years by Gore-Tex and their well oiled marketing machine. It's been tough for competitors to get in edge wise.  Now I've owned my fair share of products with Gore-Tex and some of them have been great products but Gore-Tex as a waterproof breathable membrane has one major flaw. The Gore-Tex membrane loses it's ability to breath and shed water as it gets dirty. So in order to stop the membrane from getting contaminated they have to spray on a very thin layer of polyurethane coating. As you may well know… Polyurethane doesn't exactly breath very well.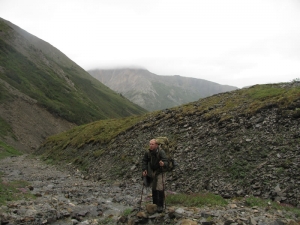 Along comes eVent… A waterproof breathable membrane created by BHA technologies. Unlike Gore-Tex the eVent membrane is not as susceptible to contamination and therefore does NOT need a layer of polyurethane coating to protect the fabric thus severely hampering it's breathability.
Great… Let's hear how it worked over my last sheep hunt in the BC mountains.
My Initial Thoughts On The Thru Hiker Jacket & Pants
The "Thru" hiker jacket and pants both came packaged in their own individual silcoat (waterproof) stuff sacks, and as expected for lightweight raingear, both the Jacket and the Pants do pack down really well.  The shell material itself feels very durable and the stitching on both the jacket and pants was meticulous.  You can tell great care, goes into the creation of these garments.
The jacket itself, was an XL in size, and is about the perfect size for me (5′ 10″ 200lbs), taking into account, that I may venture on some late season hunts and will want to wear a few more layers underneath.  That said, with just a light weight t-shirt underneath the jacket still fit okay, a little long in the sleeves, but it wasn't hanging off me anywhere.  This Jacket is very light weight @ only 11oz's and as such doesn't have many frills.  There is one chest pocket, no pit zips, and a very simple full hood to keep your head warm and dry.  The cut of the Thru hiker comes a little lower, and prevents water from coming down your crack if you bend over, if you've had it happen it's down right uncomfortable.
The pants were also in XL and I think maybe a tad bit too big for me.  The major drawback with the pants is that they cannot be slipped on/off overtop of your hunting boots.  They do have zippered legs, but behind the zipper is just a small extension in the material so they open a little bit, but not enough to slip my Hanwag Trapper Tops through, It's a pain in the butt having to stop and remove your boots to get rain gear on, especially if you're in some rough/wet country to begin with.  The pants have a built in velcro mechanism around the waist for tightening/loosening the waist, when trying the pants on, I was maxing out the adjustment on the XL's and could have probably had the waist a little tighter yet.  If you are a person of my size, you may consider the pants in just a large size and I'll explain a little more about that later.
How Did The Jacket Perform?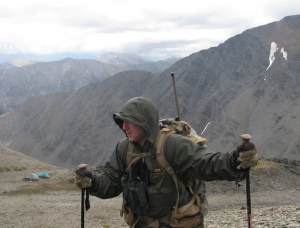 The eVent Thru Hiker by Integral Designs was an impressive piece of gear on our recent trip.  The breathability of this jacket is unreal and in the field even more so than I expected.  Both of my partners were wearing waterproof breathable raingear as well (not eVent) and they were always layering down and taking off their jackets long before me.  In fact my jacket stayed on me most of the trip, with me layering up or layering down as the temperatures and conditions changed, but the jacket remained my outer shell for the entire journey.
On our climbing days, which were laced with light rains, heavy wind and cooler mountain temperatures I was able to continue working my way up and along the ridges in the Thru Hiker with a simple wick-a-away T-shirt as my only layer.  I was sceptical of the lack of pit zips to ventilate with but alas it was never a problem, and the extra wind we experienced probably also contributed to my sweat being expelled by the garment quickly.  The jacket worked excellent at blocking the cold wind as well.
During the spells of heavy wind and rains combined, the Jacket held the water at bay and kept me nice and dry underneath, the hood worked awesome when needed and I welcomed the extra shelter from the wind, however I found the mechanism for hood storage to be a bit of a pain, and so left the hood out the entire time, instead of rolled up to the collar otherwise, it was too hard to get the hood out, with my pack on.
There is only one pocket, and I did find myself at times, trying to place an item in a side pocket that wasn't there!  Some normal jacket pockets would be a welcome addition, but they would add more seams to be sealed, and the zippers add extra weight.  The current chest pocket is quite large, and all of my items that were stored in there (my hunting license was one of them) stayed completely dry so it ended up working well.
How Did The Pants Perform?
The main issue with the pants, was that the side zips, didn't allow for enough room to get the pants on/off without rooming my hunting boots.  This isn't fun when you want to layer up/down in a hurry.  There were a few days, with fairly heavy wind, and some light periodic rain and I decided to wear the pants.  The XL I think may have been a little large for me, as they were quite baggy in the crotch and backside, and were hanging off me.  The pants did block the wind and repel the rain as promised, but because I was wearing my Northface convertible pants underneath the raingear, I challenged the breathability of the eVent and sweat was developing to the point that I had to remove them.  I think a better idea would be too wear these pants with NOTHING underneath other than some wickaway thermal underwear or hiking boxer briefs.  I was wearing full blown pants underneath, and the conditions were just too warm for that.
The pants work really well at what they are supposed to do, protect you from the elements.  My only issue is that we can't put them on or take them very easily without taking off your boots, there are some situations on the mountain when you don't want to take your boots to put on raingear, such as on a steep sidehill, or scree slope, in snow and really wet ground, it just makes for a more challenging rain gear stop.
My Final Thoughts?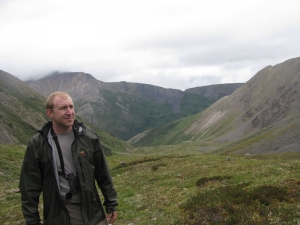 The Integral Designs eVent "Thru" hiker jacket is hands down the best rain jacket I've ever had the pleasure of taking on a hunt.  It's light, sheds water like a duck and was breathable enough that internal moisture inside the jacket was never a problem, it truly does breath just as well as the claims they make.  This jacket is an excellent and affordable option for any backpack mountain hunter looking for the best performance.  No need to drop $300-$600 on others waterproof breathable outer shells when you pickup an ID Thru hiker for less than $300 at several Canadian and US retailers.
The pants worked well too, but as a light weight rain pant for mountain hunters, they need a little bit of modification to allow the pants to slip on/off more easily with a set of higher cut hunting boots in order for me to recommend them fully.  The jacket on the other hand is a straight up awesome piece of lightweight gear!
Carl