Properly skinning and caping your game is a critical part of preserving your trophy should you wish to have it mounted by your taxidermist.  Aside from practice and skill, the only tool that will help you do a better job is a razor sharp knife designed for the purpose of skinning and caping game.
Being a backpack hunter, trophy care is very important to me when we are several days away from a taxidermist.  Up until now, I've always carried my handmade hunting knife, and a 2 different sized scalpal handles with blades to make my caping job easier.  I am always interested in new hunting gizmos and through a hunting forum I belong to I was introduced to a company out of Cincinatti, Ohio by the name of Havalon Knives.  Havalon came out with an ingenius design of a knife called the Piranta that incorporates the simplicity and compactness of a pocket knife, with the lazer sharp precision of removable scalpal blades.
There were a few professional guides, raving about small and simple these knifes were, and that with the removable blades they never had to spend anytime sharpening in the field.
I received my knives several months ago the "Edge" "Z-Black" and the "Tracer-22" and took them along on our early season Stone Sheep/Moose hunt but we were unsuccessful and we never got to use the knives for any real skinning or caping work outside of gutting a few artic grayling and bull trout for our dinner, and for that purpose let me tell you these knifes worked great!  Unfortunately on that trip I lost my "Edge" knife with the bright orange handle, it was my favorite and I was a little sour about that.  It fell out of an open zipper on my pack.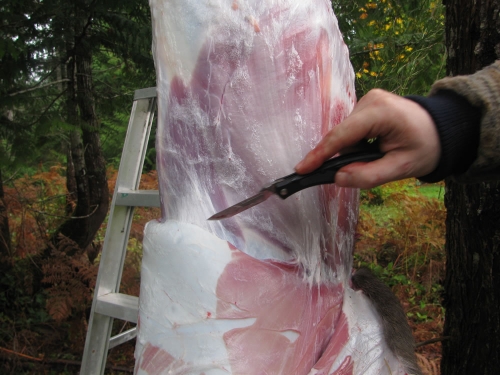 Fast forward to Blacktail Deer hunting season here on Vancouver Island this November and I've had the opportunity to use the knives to skin/cape two of my own Blacktail bucks as well as a friends buck too, for a total of 3 deer skinned/caped using the Havalon Piranta… And then I lost my black handled Zytel knife!!!  I was so excited about my last buck, that I must have set it down when I finished gutting my deer and another hunter may have taken it as a trophy :(.  Now I am down to my trusty Tracer-22 which is the smallest, most compact of the knives I originally had.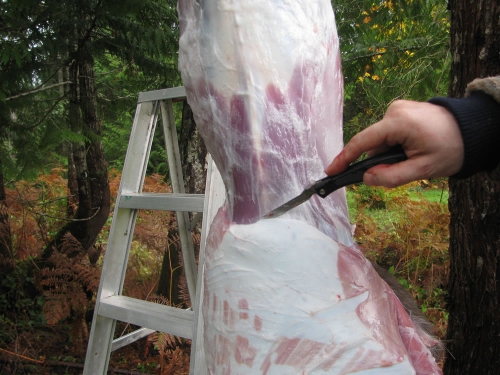 Here are my thoughts on the Piranta Skinners:
Construction:  These knifes are constructed out of a solid ABS plastic and feel very sturdy in your hand.  For light duty work (skinning/caping) these knifes are well built for the purpose.  They feature textured grips to make them easier to hold onto and a pocket clip to keep your knife handy at all times.   It's certainly not like holding onto a hand made custom wood/bone handle but the light weight of these knives makes them a very attractive addition for any backpacker.
Blades:  The 60XT and 22R blades provided were razor sharp.  The 60XT is the larger of the two blades and is suitable for skinning out/gutting your animal and doing most of the caping work too.  The #22-20 blades are a little smaller and better suited for the fine work such as turning ears, lips, cutting around the eyes, paws, etc…  To gut/skin and cape one of my deer I went through about 3 blades.  They do seem to dull rather fast if you are trying to cut through cartiledge (up the brisket), around leg joints etc… At $30 for a box of 100 blades that's around 25-30 animals you'd be able to skin, which is plenty for about a $60 total investment and never having to stop and sharpen your knife midway through ever again.
Ease Of Use:  The knifes are so sharp they simply glide right through the flesh.  Because of the fine curved tips, and specially shaped blades it's much easier to seperate the layers of hide/fat/muscle for a much cleaner skinning job.  Because the knives are so much sharper you require less pressure on your cutting strokes and for the fine detailed work around the face which is nice because you have a lot more control over your strokes.  You'll have no problem noticing when the blades have lost their edge as cutting performance slowly diminshes, throw a new blade on and away you go again.
Overall Thoughts:  Overall I was really impressed with the quality of this knife, especially at it's price point.  For less than $50 you can get a knife that is perfectly suited to cape any wild game we have in North America.  From the first incision on my buck it was like opening him up with a zipper, that's how smooth the 60XT blades sliced through the hide.  When it came time to detail out the face, turning the ears, splitting the lips etc… The smaller #22 blades made it really easy work, although the 60XT worked just fine as well.
While these knives aren't your average "swiss army" knife designed for all purposes.   They do a variety of "light duty"  household knife work such as trimming steaks, trimming chicken, slicing through veggies and any other simple cutting duties around your home or camp very well.  These knives were not meant to be used as chopping or prying tools and I did break one blade in half while trying to remove flesh/cartiledge from the skull of my buck, no fault of the blades as I was prying fairly hard.
Because much of my hunting is done on foot while backpacking, this light weight skinning knife and a few replacement blades now have a permenant home in my pack.  With Christmas fast approaching it's a great little stocking stuffer or Christmas gift for that special outdoorsman or outdoorswoman in your life. 
Order Direct From Havalon By Clicking Here
Thanks For Reading!
Carl