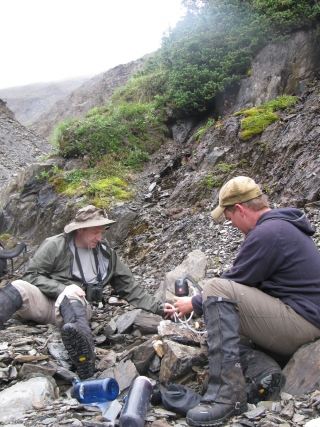 Many people think it's easy to find water in the mountains, and for the most part it usually is, but when you're backpacking for sheep you want to get up high, and once you're above timberline and even higher into the 6500'+ range water can sometimes be pretty scarce when you're backpacking for sheep.  Sometimes you get lucky and you'll find a spring in the rocks or a tiny trickle somewhere, and other times you can trek for a few miles without finding water, all the while hiking across really rough terrain, exhausted and thirsty! 
It sucks to feel like that.
There is usually always water a few thousand feet below you, but not many hunters want to lose all that altitude just to get water everyday.  I am one of those hunters who likes to have lots of water on hand, at least 1.5 – 2 liters per person, per day in base camp, and I always have a 1.5 liter Nalgene bottle on my person that I try to fill up every chance we get.
Water Related Items We Bring Along On Our Backpacking Trips:
Katadyne Vario Filter.
1 1.5 liter Nalgene for daily needs.
2 1 liter Platypus bladders for water storage.
"Pristine" water drops (as backup measure) and we'll share this between 3 guys.
Here are some tips for finding water and staying hydrated on your Stone Sheep hunt:
Use A Water Filter:  Preferably the type that has an intake tube with a float.  We never used to filter our water on our northern BC mountain hunts, until one year we hunted a spot where water was extremely scarce… I knew ahead of time however, this was going to be the case for this particular area and had purchased a Katadyne Vario filter just in case we had to treat some really nasty water.   We had been using the drops previously but I wasn't fond of the chemical taste (or smell).  After using the filter to collect water from a muddy puddle at the bottom of some snowpack I couldn't believe how handy this little filter was for collecting water from very hard to reach places.It's not easy trying to fill up a Nalgene in a tiny little puddle, if you've ever had to try!  But with the filter, you can throw the intake tube into your water source, no matter how small, start pumping and you've got crystal clear, great tasting water flowing out the other side, or straight into your Nalgene.   It's very fast (2 liters/minute) so collecting water isn't a chore.
Take Reserve Water:  Whenever we make a climb, if we don't know there is water where we are going we will pack water with us up the mountain.  We'll usually fill our 1.5 liter Nalgenes along with 1 or 2 of the 1 liter platypus bladders as well.  This covers us for drinking water, and cooking water for about 24 hours.  It's always better to pack a couple extra pounds of rehydration than not to have it, and you sit completely parched on a wind blown cold, dry ridge somewhere.
Drink Water Often:  Every chance you get you should be drinking water.  I went on a sheep hunt with a doctor one year, who told me that if my pee wasn't clear then I was dehydrated.  You are excerting yourself beyond your normal limits on a backpack sheep hunt and rehydrating yourself is important, so when you have the chance to drink and water is in ample supply, do so!  Whenever we stop to filter water at some little source on the mountain, we usually sit down, take our boots off and have a rest.  We drink quite a bit of the filtered water before filling our Nalgenes and hitting the trail again.
Collecting Rainwater:  We've used Garbage Bags and Siltarps to collect water with great success when it's pouring outside… Oftentimes showers in the northern BC mountains are fast and furious, and if you've been low on water they are good opportunities to replenish.  One year we were catching the run-off from the Siltarp we had setup over our tent, we could fill a 1 liter Nalgene in just a few minutes it was coming down so hard.  Unfortunately for us that rainstorm lasted 2 and a half days!
Collecting Snow Runoff:  The last couple years snowpack has been our main water source, and we've had to do a little exploring to find a good place to setup camp, while taking this into consideration.  We simply find the snowpack and then using shale/rock from around we will dig a couple of holes right below the snowpack and they slowly fill up with murky water.  If you let them settle down the water will eventually go clear.  We then use the Katadyne filter to pump the water out of the pool.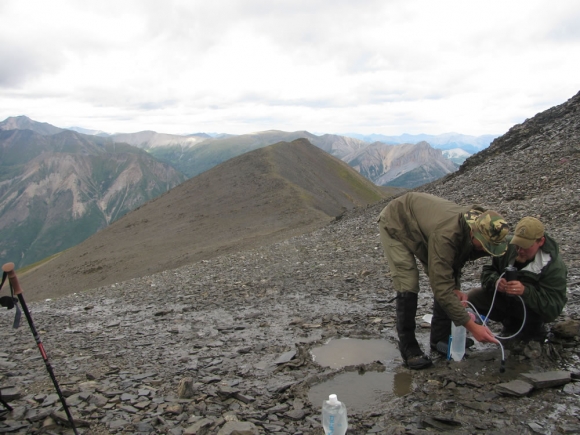 Good Luck on your next Backpack Hunt!
Carl